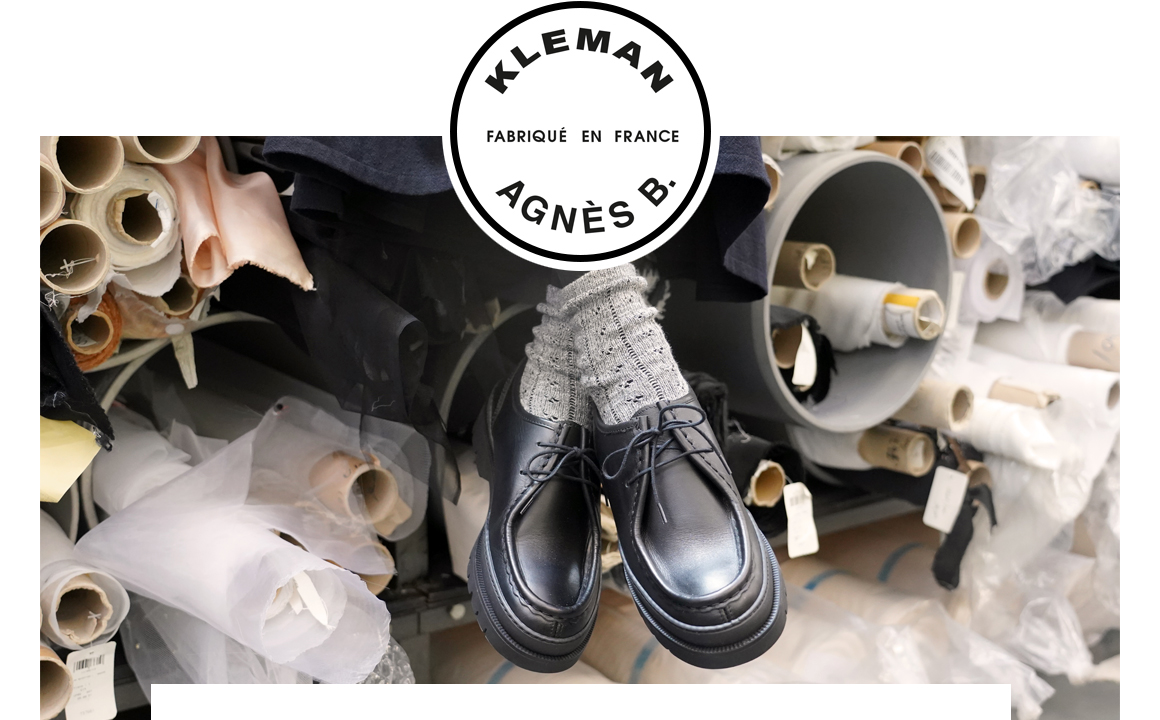 agnès b. has designed three exclusive shoe models for this season with Kleman.
Kleman, quality and timeless shoes
Kleman is a French family-owned company that was founded in the aftermath of the Second World War, initially under the name of Cléon Manufacture. Specialising in work shoes, combining safety, robustness and quality, it has fitted employees of the SNCF and Air France as well as customs officers, firefighters and the French army. Kleman continues to manufacture its products exclusively in France, in its workshop located in Anjou.

Like agnès b.'s clothing, Kleman shoes are timeless. They offer an authentic unisex style, which seduced agnès b.

Moreover, agnès b. has always loved workwear, which has been present in her collections for decades. In the same spirit, Kleman has made professional footwear a timeless workwear style accessory.
Models restyled
agnès b. has chosen to revisit two classic Kleman models with her own personality. She offers a brown ankle boot and a black derby, both in leather and unisex available from 36 to 45. She has customised the interior with her own handwritten designs and added an agnès b. pull tab on the back.
An exclusive model customised by JonOne

A third model is offered: Kleman boots customised by the American graffiti artist JonOne, a long-time friend of agnès b.
JonOne spotted the Kleman boots when he was a model for a day during the agnès b. winter 21 collection. True to his freestyle habit, he used a golden felt pen to graffiti the shoes he had just worn. This resulted as an exceptional and exclusive model of boots, which agnès wanted to market, to highlight the work of this artist, in only 99 copies worldwide!
JonOne, a long friendship with agnès b.
Born in 1963, JonOne grew up in New York, in the neighbourhood of Harlem. A painter, sculptor and graffiti artist, he began his career in the 1970s, tagging his name on walls and in subways, which he saw as "museums across the city". Moving to Paris in the early 1980s, his work focused on movement, colour and freedom of line, revealing his imagination and optimistic vision of our society.

He met agnès b. and exhibited at the galerie du jour from 1989 onwards. Their friendship resulted in various collaborations: performances and wall paintings, clothes in his colours, t-shirts sold for the Fondation Abbé Pierre, and today the agnès b. X Kleman boots customised by JonOne. Recognised by both art institutions and the commercial art scene, JonOne is today a leading figure in the international street art scene.