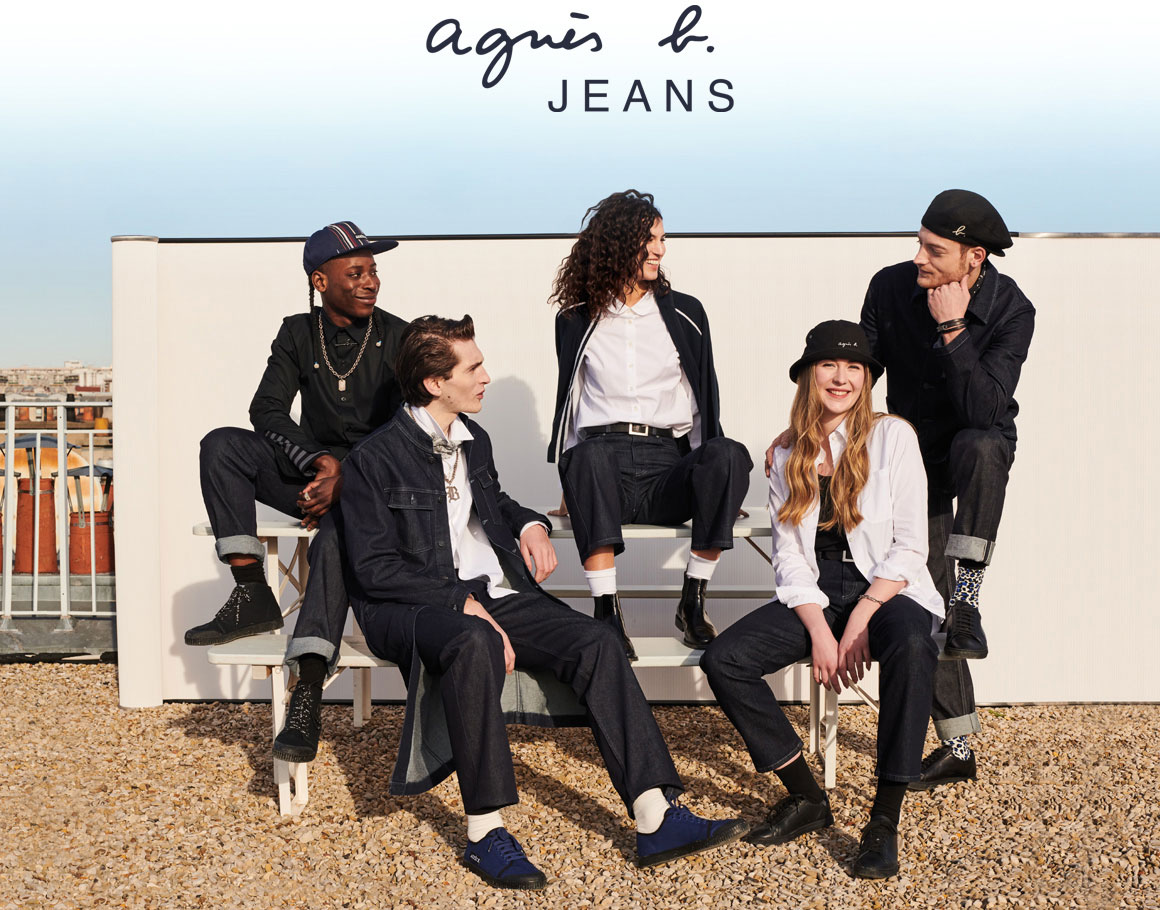 agnès b. loves jeans!

They have always featured in her collections and are integral to the brand. Jeans are one of the only items of clothing that can be passed down from generation to generation… they last for a long time, never go out of fashion and boast a unique and comfortable design... much like every other garment created by agnès b.!
women's collection
men's collection
In the 1960s, agnès b. was one of the first to popularise wearing jeans during the week at a time when they were reserved for the weekend! She has always created her collections based on the following philosophies: thinking outside of the box, breaking with tradition and making work clothes trendy.

Today, agnès b. invites us to rediscover this legendary item of clothing in its original form by endeavouring to manufacture carefully designed, high-quality jeans without synthetic washes.

Know-how
In light of her desire to offer staple jeans true to its stylistic vision, agnès b. has been working with two countries specialising in the manufacture of denim. She selected Japan for its authentic approach to selvedge denim for part of the Men's collection, and Tunisia to create flexible and comfortable jeans.


JAPAN: a tale of teamwork!

agnès b. is much loved in the Land of the Rising Sun and each of her trips has given rise to new meetings. On her quest to offer the ULTIMATE pair of jeans made from high-quality, sturdy and long-lasting fabric, she became acquainted with a team of around 30 denim enthusiasts. Each one is committed to the traditional selvedge denim manufacturing process, instantly recognisable by the red-and-white stripe on the edge of the fabric.
The legacy of jeans: Japanese selvedge denim

In the world of jeans, Japan has a reputation for being the best manufacturer of selvedge denim. In the 1950s, American culture and vintage clothing became very popular in Japan, kick-starting the manufacture of Japanese denim. Japan began importing the traditional shuttle looms that were no longer used in the United States. Aside from the incredibly high quality and durability, the signature Japanese colour and texture are immediately recognisable. Kojima, a district located in the Okayama Prefecture, already renowned for its high-quality fabric and traditional manufacturing techniques, became the Japanese denim capital. It is in this distinctive location that agnès b.'s 'Made in Japan' jeans for men are manufactured.

TUNISIA: a tale of loyalty!

agnès b. remains faithful to her providers and her beliefs. No wonder then that she enlisted the help of her longstanding jeans supplier whose production units are based in Tunisia. Its workshop developed a pair of highly flexible jeans using fabric woven with a bit of elastane to ensure greater comfort from the very first time they are slipped on.

Our commitments

agnès b. jeans are not synthetically washed.

. Firstly, because washing uses a lot of water and is not an eco-friendly practice and secondly, because agnès b. loves the way jeans naturally wear over time! The jeans tell the story of their 'owner', adapting to the lifestyle of those who wear them and almost becoming a second skin...