History of jeans
In Italy, the fabric known as 'jean' was first used by the Genoese Navy in the 16th century to kit out its ships with sails and clothe its sailors. Indeed, the city of Genoa was renowned for this indigo-coloured cotton-and-linen canvas fabric. It was the Genoese blue (Blu di Genova) that gave rise to the name 'blue jeans' in English.

In the city of Nîmes in France, weavers (such as the André family) attempted to recreate the Italian fabric. In the 17th century, they developed another fabric, a twill canvas woven from wool and silk which became known as 'denim' as it was 'de Nîmes' (from Nîmes).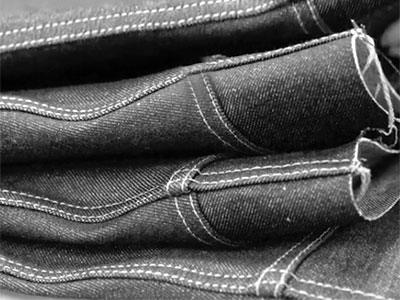 This beige fabric was renowned for its durability and often used to make work clothes for shepherds and farmers in the French region of Cévennes. It was later exported to Genoa and dyed indigo blue to create an affordable and durable item of clothing that was easy to take care of and didn't show dirt like the light beige fabric.

The invention of the garment itself was the product of a collaboration between Levi Strauss and Jacob Davis, a tailor based in Reno, Nevada. The former was the director of a fabric and clothing business, Levi Strauss & Co., set up on the west coast of America during the 1853 Gold Rush. He used his carts to transport tent canvas and tarpaulins made from brown denim fabric which he then sold to the forty-niners.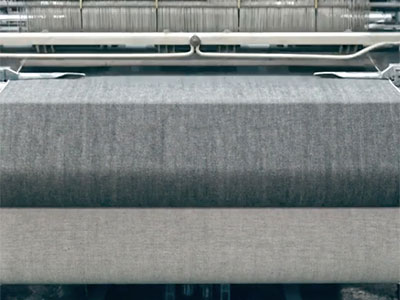 One of his clients, Jacob Davis, purchased some canvas and cut it into work trousers reinforced with copper rivets in the areas most susceptible to strain (pockets, flies), successfully meeting the durability requirements of a customer looking to purchase trousers for her lumberjack husband. Building on the success of his trousers among lumberjacks and miners and to help prevent the creation of knock-offs, Davis approached Levi Strauss in 1872 and suggested that they should work together and share the profits made from the commercialisation of his invention.

Denim is made entirely from cotton or blended with elastane for enhanced comfort and flexibility. The cotton used has short, carded fibres or long, brushed fibres with superior softness. The fabric has a very dense structure that ensures durability. The warp yarns are dyed indigo blue and the weft yarns are dyed ecru for a chambray-style appearance.